Junior Member
Posts: 1
Joined: Mon Jul 13, 2020 1:35 pm
Calculators: Casio fx-CG50, Casio Classpad fx-CP400
As I live in Australia, I have the fx-CG50AU. It's basically identical to the normal CG50, but it has 4MB of storage rather than 16MB, to comply with SACE regulations.
I assumed that the memory was just a smaller chip, but I connected it to my laptop the other day and looked at it through Windows Disk Management, just for kicks. Lo and behold, the additional 12MB was present, but unpartitioned.
https://imgur.com/a/UyJ0jmF
Attempting to expand the storage through Windows caused a file system error on the calculator, which was expected. Does anyone have any ideas on how to access this 12 MB of storage for storage?
---
Member
Posts: 45
Joined: Wed Jul 24, 2013 3:33 am
Calculators: Casio fx-7400GII (SH4), Casio fx-9750GII (SH4), Casio fx-9860GII SD, Casio Classpad 330, Casio fx-CG50, Casio Classpad fx-CP400
Hi.
First thing to do would be to open your calculator and take a picture of its Flash NAND chip.
The fx-CG10/20/50 are using a 32MiB NAND, a Spansion S99-50272 :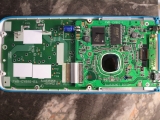 With a 16MiB partition reserved for the operating system
(more than 12MiB big)
, and another 16MiB partition for storage.
The fx-CG50AU might be using a smaller 16MiB NAND, and the reported 16MiB availability would just be a software error.
By the way, any picture/capture of the file system error ? Thanks.
---
Who is online
Users browsing this forum: No registered users and 4 guests